OUR CAMPS ARE FILLING UP FAST AND MOST ARE NOW WAITLISTED – JOIN TODAY AND/OR CHECK OUT THE BELOW THIRD PARTY CAMPS THAT WILL BE AT THE CENTRE THIS SUMMER!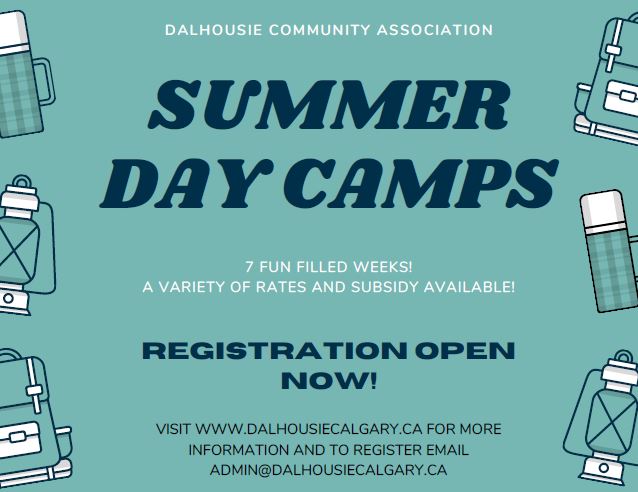 Dalhousie Summer Day Camp registration is officially open!
Here is what you need to do to register:
Get your FREE DCA Membership – click here
Download the DCA Summer Day Camp registration form – click here
Fill out the current COVID Protocols, Policies and Procedures form – click here
We offer a variety of level of care to choose from for our summer day camps, please review the fee guide here
Weeks Of DCA Summer Day Camp
July 5-9 – Cowboys and Aliens
July 12-16 – Princesses and Pirates
July 19-23 – Science, Science, Science (WAITLISTED)
July 26-30 – All Around The World
August 3-6 – The Great Outdoors (short week due to August Long Weekend)
August 9-13 – Under the Sea
August 16-20 – Animals and Insects
Please note that subsidy is available for our Summer Day Camps! Do not delay in applying for subsidy if you require it, as it can take some time to process and receive.  All camp payments will be paid in full, and parents will be reimbursed once the DCA has received the subsidy amount from the Government.
Below are the Program ID's for the subsidy application, if required:
Main Site 
Address:  5432 Dalhart Road NW Calgary, AB T3A 1V6
Program ID #:  80000898
Dallyn Street
Address:  4448 Dallyn Street NW Calgary, AB T3A 1K3
Program ID #:  80001727
**Once you have applied for subsidy, please provide a copy of your conditional acceptance letter to admin@dalhousiecalgary.ca**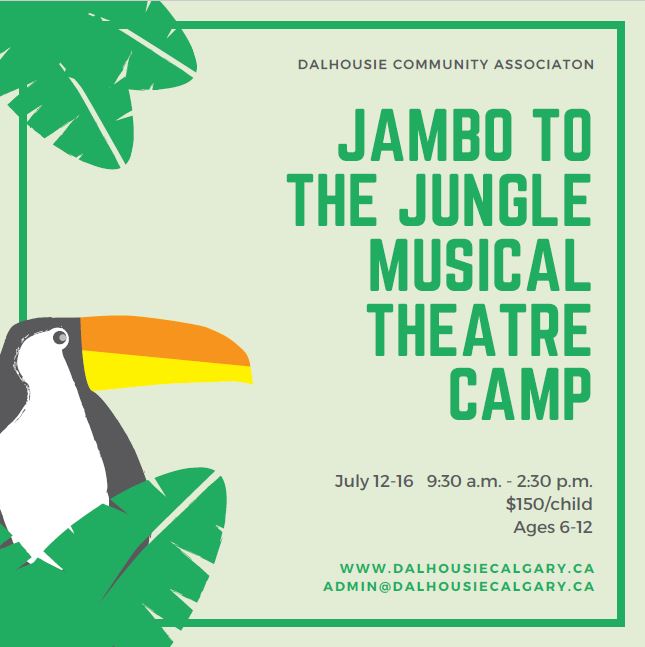 Did you know the DCA also offers a Musical Theatre Camp?
Wendy Kondrat is offering her annual Musical Theatre Camp, with this year's theme being "Jambo To The Jungle"!  This camp does not offer before and after care, however the camp does operate from 9:30 a.m. – 2:30 p.m. at the Dalhousie Community Centre with an evening performance to be held on Friday July 16th!  This a very fun filled week for children, and a bit different than a regular day camp! If you have any questions, please feel free to email admin@dalhousiecalgary.ca
Click here to register today for the Jambo To The Jungle Musical Theatre Camp!
Here is a list of all camps that you can register for this summer that are held at the Dalhousie Community Centre:
DCA Summer Day Camps
Dates: July 5-August 20
Website: https://www.dalhousiecalgary.ca/programs/summer-day-camps/
Registration Contact: summercamp@dalhousiecalgary.ca
DCA Musical Theatre Camp "Jambo To The Jungle" with Mrs. K
Dates: July 12-16
Website: https://www.dalhousiecalgary.ca/programs/summer-day-camps/
Registration Contact: admin@dalhousiecalgary.ca
Cosmic Coders
Dates: August 9-13, August 16-20
Website & Registration: https://www.cosmic-coders.com/
Engineering For Kids
Dates: July 5-9, August 3-6
Website & Registration: https://www.engineeringforkids.com/
Mad Science
Dates: July 12-16, July 19-23, July 26-30, August 9-13
Website & Registration: https://calgary.madscience.org/
Polyglots
Dates: July 12-16, August 9-13, August 16-20
Website & Registration: https://polyglots.ca/
Stagecoach Musical Theatre
Dates: July 5-9, July 12-16, July 19-23
Website & Registration: https://www.stagecoachschools.ca/
DCA Summer Day Camps
Dates: July 5-August 20
Website: https://www.dalhousiecalgary.ca/programs/summer-day-camps/
Registration Contact: summercamp@dalhousiecalgary.ca
DCA Musical Theatre Camp "Jambo To The Jungle" with Mrs. K
Dates: July 12-16
Website: https://www.dalhousiecalgary.ca/programs/summer-day-camps/
Registration Contact: admin@dalhousiecalgary.ca
Cosmic Coders
Dates: August 9-13, August 16-20
Website & Registration: https://www.cosmic-coders.com/
Engineering For Kids
Dates: July 5-9, August 3-6
Website & Registration: https://www.engineeringforkids.com/
Mad Science
Dates: July 12-16, July 19-23, July 26-30, August 9-13
Website & Registration: https://calgary.madscience.org/
Polyglots
Dates: July 12-16, August 9-13, August 16-20
Website & Registration: https://polyglots.ca/
Stagecoach Musical Theatre
Dates: July 5-9, July 12-16, July 19-23
Website & Registration: https://www.stagecoachschools.ca/