Co-op is proposing a new development on their site at 5500 Dalton Drive NW. To learn more and provide comments on the resubmitted proposal, visit https://developmentmap.calgary.ca/?find=DP2022-07120 to see the plans and provide your comments prior to May 2, 2023.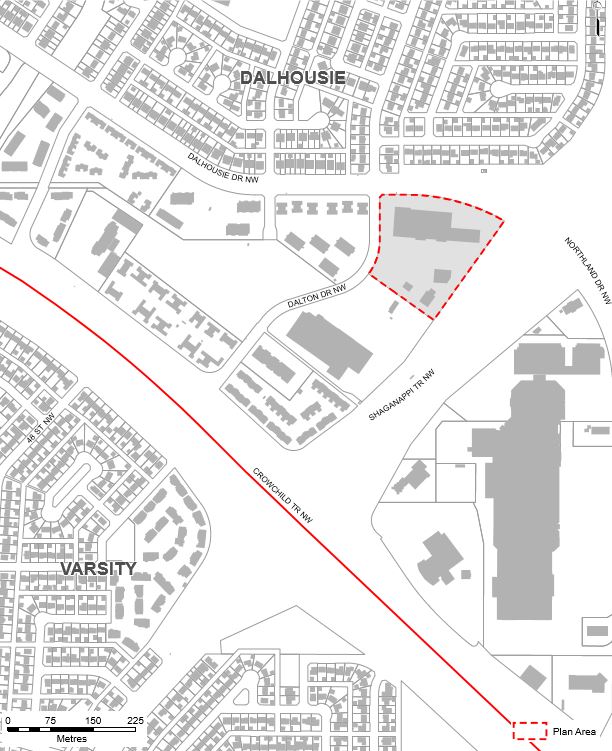 Dalhousie Co-op Redevelopment Update for April 24th, 2023
Some of you may recall that Co-op partnered with Quarry Bay Investments for a major redevelopment of the Co-op site at the corner of Dalhousie Drive and Shaganappi Trail. This included a period of significant public engagement, with Dalhousie residents helping shape a vision for the site that culminated Council's approval of concurrent land use amendment LOC2016-0326 and development permit DP2016-5075. While any redevelopment of this scale has yet to come to fruition, Co-op has recently brought forth a new development proposal as DP2022-07120 for a New: Drive Through, Health Care Service, Restaurant: Food Service Only (1 building).
DP2022-07120 was initially submitted to the City on October 20th, 2022 and posted on Development Map, with the opportunity for public comment on the included plans. The Dalhousie Community Association provided comments, through our Planning and Development Committee, based substantially on the engagement results for LOC2016-0326/DP2015-5075. Co-op resubmitted DP2022-07120 on April 11th, 2023, for the same use, but with changes to pedestrian access and public-realm elements. If you are interested in seeing what's proposed and in providing your own comments, you can navigate to:
https://developmentmap.calgary.ca/?find=DP2022-07120
Click on the "About" tab to download and view available documents, i.e. plans, etc. Click on "Share your comments" to provide any feedback you have prior to May 2nd, 2023.
If you want to know more background on the redevelopment proposed for the site, the City of Calgary still has information on the original redevelopment at:
https://engage.calgary.ca/dalhousiecoop
If you have any questions for the Dalhousie Community Association on this or any other development-related items, feel free to reach out to the Planning and Development Committee via the contact form https://www.dalhousiecalgary.ca/contact/.
Dalhousie Co-op (earlier info)
Quarry Bay Investments Inc. and Calgary Co-op are developing a mixed-use urban village at the location of the current Dalhouse Co-op, including a brand new store and more.
Visit www.engage.calgary.ca/dalhousiecoop for more information and updates.
Last info Session – November 7th 2017
This November, join us for the last information session so that you can review the final application and ask questions of City staff before it is presented to Calgary Planning Commission and City Council.
Event details:
Date: November 7, 2017
Time: 4-8 p.m.
Location: Dalhousie Community Association, 5432 Dalhart Road N.W. Calgary, AB T3A 1V6
Update: October 10th 2017
The What We Heard report summarized feedback from our in-person and online engagement opportunities in August.
Overall we had 286 people participate and 548 ideas generated in this stage of engagement, which consisted of a variety of activities including:
a community sounding board
a pop-up event
an open house
an online survey
and paper comment form
Next steps
A second detailed review of the application is currently being shared with the applicant. We will be holding an information session later this year to share the final application with you before it is presented to Calgary Planning Commission and City Council.
Update: July 17th, 2017
There are three phases of engagement in the review of the Dalhousie Co-op redevelopment application. We have recently concluded phase one and two of engagement. Feedback received in the first two phases of engagement have been used to inform the first detailed review of the submission. We will be back in August with phase three.
Online Engagement
August 9 – 30
Pop-up Event
Stay tuned for more details.
Sounding Board
Stay tuned for more details.
Location: Dalhousie Co-op
August 16 – 22
Open House
Location: Dalhousie Community Church ( 5511 Baroc Road NW)
August 28 from 4:00 – 8:00 PM
Update: October 19, 2016
Hi everyone;
Hope you had a great summer!
I wanted to update you on the Dalhousie Co-op project.
We were in the Co-op store periodically over the summer with a couple of design boards for people to look at. We've found this to be helpful with other projects to socialize the idea with area residents in advance of public meetings. The feedback we had in store was quite positive and residents had lots of great questions we were able to address. We've also scheduled two open house meetings for late October (see attachment). We'd love to see you and the other board members out at both or either of the dates. They are informal drop in-style, and we will have architects, consultants and possibly a representative from city planning on hand for people to ask questions and have discussions with. There will be an opportunity for residents to also fill out comment cards (and we also have an app) for about their thoughts on the project. We recently had two such meetings in regards to our Brentwood Co-op redevelopment plans and the style of the open house events was well received. We will be happy to share the feedback we receive from the Dalhousie events with the Community Association Board the week following the open houses.
If circulating the dates and times about the public open house meetings is something the community association can do, that would be great.
If the Dalhousie Community Association would like to talk prior to the Open House events or if you have any questions, please let me know. Thank you!
Lauren Herschel
Director of Communications
Quarry Bay Investments Inc.