Welcome to the Dalhousie Farmers' Market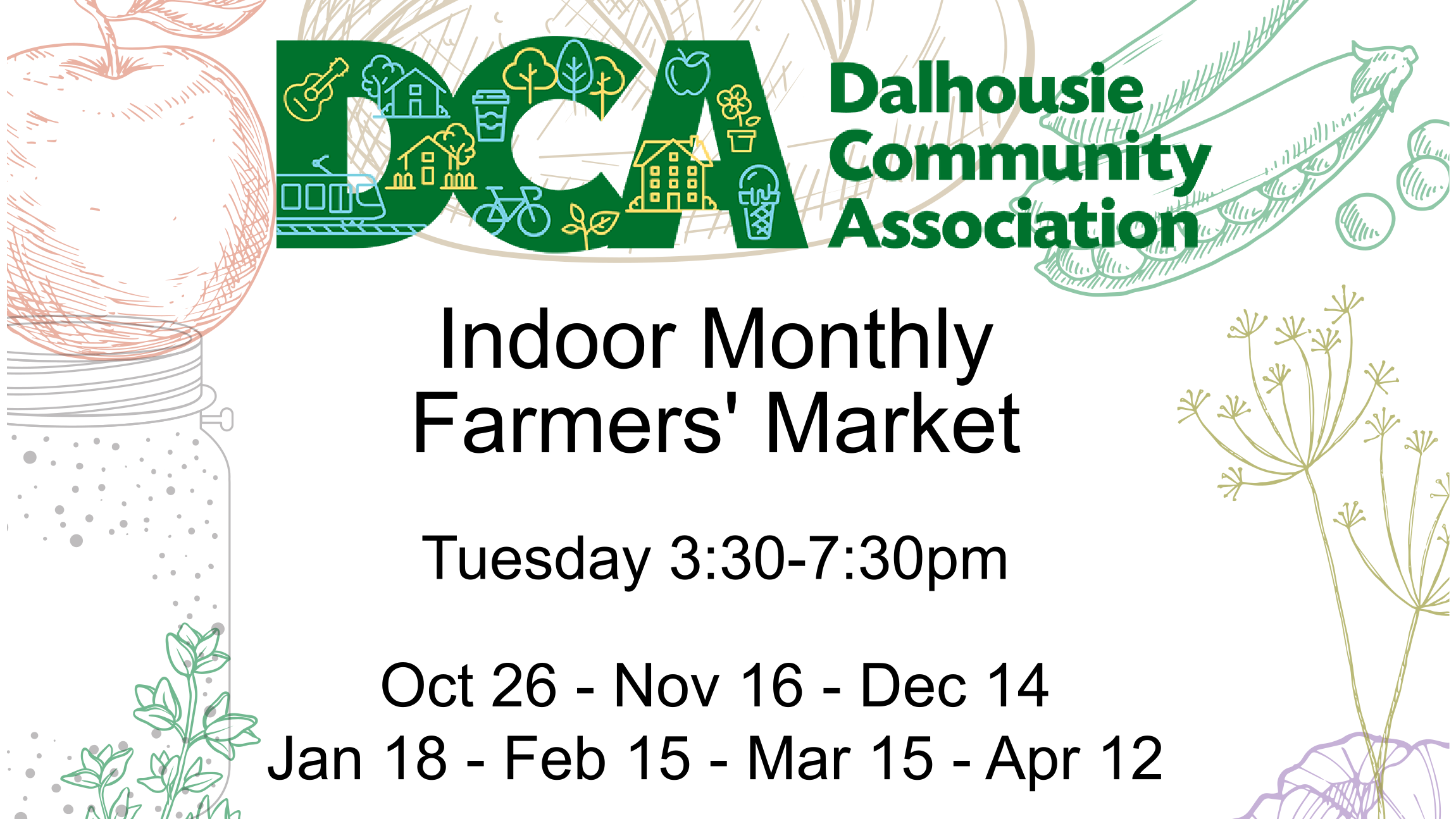 The 2021/2022 Dalhousie Indoor Farmers' Market runs monthly on a Tuesday from 3:30-7:30pm . We are located inside the Dalhousie Community Centre at 5432 Dalhart Rd. NW. At the market you will find local growers, makers and food artisans. We are an Alberta Approved Farmers' Market.
Currently we are sold out and only accepting new vendors for the Indoor Market if a space becomes available. The application form is available HERE to download and send in for consideration to market@dalhousiecalgary.ca. You must also review and sign the Dalhousie 2021 Indoor Market Policies HERE and send in with your application!
If you have any questions about the market, please email Sonja Devauld, Market Manager at market@dalhousiecalgary.ca.
Find us on Facebook, Instagram and Twitter @dalhousie.farmersmarket.yyc
At this time, the Restrictions Exemption Program (REP) does not apply to our essential programming (Indoor Monthly Farmers' Market)
We will be implementing capacity restriction to 1/3 fire code occupancy.
Attendees must be with household members only, or 2 close contacts if they live alone.
Answer a verbal COVID-19 questionnaire;
Wear approved Personal Protective Equipment (PPE) – Face shields are not permitted for indoor use without a face mask that covers their nose, mouth, and chin.
Sanitize hands upon entry and exit of building;
Always maintain a safe physical distance of two meters;
Adhere to and follow all directional signage to control the flow of participants as indicated;
Anyone with symptoms are prohibited from attending (even if symptoms are mild, or resemble a cold)
Monthly Indoor Vendors 
Annabelle's Silver & Art
Backyard Bounty
Buzzy Bee Honey
CanaBerta LTD.
Frozen Assets Ice Cream
The Go Tu Vietnamese Kitchen
Homeward Bound Pet Food
I Love Biscotti Co
Kingdom Coffee
Mary's Jikoni
Maxi Foods
Reems Kitchen
Russell Up Some Buns (not Dec 14)
Shirley's Green House
Sugar Creek Kettle Corn Co.
Ukrainian Fine Foods
Occasional Vendors 
Behzar Brews (Jan 18)
Burke Creek Ranch – Beef (Jan 18)
Calgary Chocosweeats Factorie (Oct 26, Nov 16, Dec 14)
Culture Shocked Ferments (Oct 26)
Daddy C's Jerk Sauce (Feb 15, Mar 15, Apr 12)
Farmhouse Charm Candles (Dec 14)
Hear Me Raw (Oct 26, Jan 18, Feb 15, Mar 15, Apr 12)
Indian Good Food (Oct 26, Nov 16, Dec 14)
Italiano Please (Oct 26, Nov 16, Dec 14)
Meela's Mixes (Feb 15, Mar 15)
Mount Bison & Cattle (Nov 16, Dec 14)
Mylos Mills (Dec 14)
My Cheesecake Addiction (Nov 16 and Dec 14)
Nose Hill Farm Microgreens (Jan 18, Feb 15, Mar 15, Apr 12)
Not Wasted (Jan 18)
Petit4Paws Pet Bakery (Jan 18, Feb 15, Mar 15, Apr 12)
Plantbased Footprint (Oct 26)
ShawZ Chocolate (Jan 18, Feb 15, Mar 15, Apr 12)
Snake Lake Brewery (Mar 15, Apr 12)
Space Pantry (Nov 16, Jan 18, Feb 15, Mar 15, Apr 12)
Therapy Art Studio (Oct 26, Nov 16, Dec 14)
Tiarific Canine (Oct 26, Dec 14)