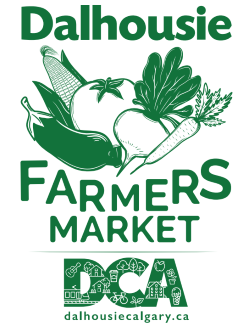 The Dalhousie Summer Farmers' Market is a Weekly Outdoor Market on Thursdays starting May 26 and running till September 15, 2022.
Hours: 3:30-7:30pm
Dalhousie Summer Farmers Market Application
Dalhousie Summer 2022 Outdoor Farmers Market Application
Dalhousie Summer 2022 Farmers Market Policies
Please fill in and sign both the application and policies and email market@dalhousiecalgary.ca.
We will notify you if you have been accepted to the market. We have room for 25 vendors each week and will be selecting which vendors are able to be full season or what dates are available for each type of vendor. Thank you so much for your interest and support.
If you have any questions about the market, please email Sonja Devauld, Market Manager at market@dalhousiecalgary.ca.
The Dalhousie Farmers' Market adhere's to the "Made, Baked, or Grown" in Alberta Rule. 80% of our vendors must have products that are Alberta Made, Baked or Grown. We are an Approved Farmer's Market and follow rules and regulations set by the Alberta Agricultural Society. By hosting a market, Dalhousie is enabling entrepreneurs to test their products and ideas while keeping costs low, interacting with the community, and learning new business skills. All funds raised by this market will go directly towards community improvement projects.
Full Season Vendors
Artisan Bread Table
Canaberta
Maxi Foods
Nose Hill Farms Microgreens
ODD Sausage
Prairie Mill Bread
Redridge Company (Cutting and charcuterie boards, wooden kitchen tools, etc)
Shirley's Greenhouse
Souto Farms
Sugar Creek Popcorn
Ukrainian Fine Foods
Part-Time Vendors
Ambrosial Cheesecake Shop (May 26, June 9, 23, July 7, Aug 4, 18, Sept 1, 15)
Barrow Coffee Roasters (

June 2, 9, 16, 23, 30, Aug 25, Sept 8, 15)

Broth + Bowl (

July 14, 21, Aug 4, 18, Sept 1, 8)

Broken Spirits Distillery (

May 26, June 9, June 23, July 7, July 21, Aug 4, Aug 18, Sept 1, Sept 15)

Buzzy Bee Honey (May 26, June 2, 9, 16, 23, 30)
Charlotte & Erin's Bakeshoppe (May 26, June 16, July 7, July 28, Aug 11)
Daddy C's Jerk Sauce 

(May 25, June 9, June 30, July 7, July 14, July 21, July 28, Aug 4, Aug 11, Aug 25, Sept 1, Sept 8)

Dalhousie Plant Nursery (May 26, June 2)
Earth Craft (Fermented products and jams) (June 2, June 9, June 16, June 23, July 7, July 21, Aug 18, Aug 25, Sept 1, Sept 8, Sept 15)
Field and Bees (Honey products, Haskap berries) (July 14, 21, Aug 4, 25, Sept 1, 8)
Homeward Bound Pet Food (May 26, June 2, 9, 16, 23, 30, July 14, 28, Aug 18, 25, Sept 8, 15)
I Love Biscotti Co (May 26, June 9, July 7, Aug 4, Sept 15)
Invictus Tumblers (June 9, Aug 11, Sept 8)
L&L (Granola, Almond Flour Baked Goods, Pet Treats) (May 26, June 2, 9, 16, 23, 30, July 7, 14, 21, Aug 18, 25, Sept 1, 8, 15)
Love Grows Wild Ranch (June 2, June 16, June 30, July 14, Aug 4, Aug 18, Sept 1, Sept 15)
Ma Pies (May 26, June 2, July 28, Aug 4, Sept 8)
Mary's Jikoni (June 16, 23, 30, July 7, 14, 21, 28, Aug 4, 11, 18, 25, Sept 1, 8, 15)
Mount Bison & Cattle Co (May 26, June 23, July 21, Aug 25, Sept 15)
Plantbased Footprint (June 2, 16, 30, July 14, 28, Aug 11, 25, Sept 1, 15)
Root and Regenerate Urban Farms (June 23, June 30, July 7, July 14, July 21, July 28, Aug 4, Aug 11, Aug 18, Aug 25, Sept 1, Sept 8, Sept 15)
Russell Up Some Buns (May 26, June 2, 16, July 14, 28, Aug 11, 25, Sept 1, 8, 15)
ShawZ Chocolate (May 26, June 2, June 9, June 16, June 23, Sept 8, Sept 15)
Soap Arch Naturals (June 2, June 16, July 7, July 28, Sept 1)
Tasty Kitchen Creations (June 2, June 23)
Tidbit Cookies (June 2, 23 and July 21)
William Mackenzie Designs (Wooden wall art and jewelry) (May 26, June 2, June 9, June 16)