Stay Tuned for more info for the 2023 Show & Shine on Sept 9, 2023
The 2022 Dalhousie Show & Shine was a HUGE Success!
We had over 160 cars, lots of spectators and we raised over $8,000 for Enviros.
Experience the cars at this years show by viewing this VIDEO.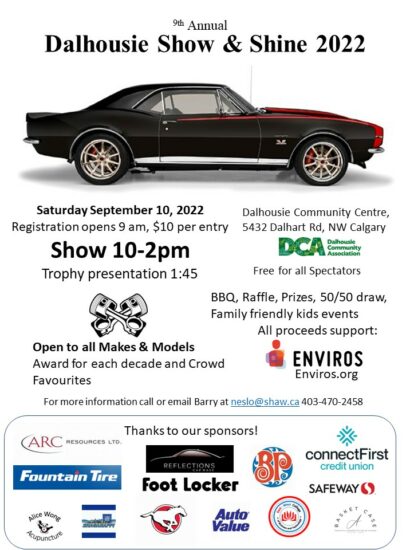 2022 Event Review
The 2022 Show and Shine was the best one yet.  Despite moving the cars into the parking lot, we had over 160 cars in attendance, which is a new record.  The weather was great all day as hundreds of spectators came out to see the vehicles and support Enviros.  Once again, the Enviros team sold over 400 hamburgers, hot dogs and pizza that was donated by Boston Pizza.  Connect First Credit Union was back with their ever-popular popcorn, as was the balloon maker and tattoo artist.
In the end, the event raised over $8,000 for Enviros.  If you would like to know more of what Enviros supports, you can visit their website at www.Enviros.org.  Proceeds from this years' show is going to support youth that are struggling with homelessness by providing basic necessities and support getting housing to live in.  Without all the volunteers, sponsors, participants and DCA support, this community event would not be possible.  Thanks goes out to everyone involved.
We would like to thank the sponsors of this years Event.  Without their support we would not be able to host such a great event.
ARC Resources, Connect First Credit Union, Fountain Tire, Reflections Auto Detailing, Boston Pizza, Crowfoot Auto Value, Alice Wong Acupuncture, Foot Locker, Shaganappi GM, Aecon, Angles Hair, Basket Case, Safeway, Silas Restaurant, Ducks Unlimited.
Planning is already underway for next years show.  If you would like to be a part of the preparations, volunteer for the day of the event or be a sponsor, please contact Barry at barryneslo@gmail.com.  As well, if you have any suggestions to make the show better please let me know.
We would like to thank the vehicle owners and the greater Dalhousie community for the continued support of the show.  Being a part of an event such as this, brings us all a little bit closer together as a community.
Congratulations to this years' winners:
Pre 50's – Tom – 38 Morgan Aero
1950's – Jim – 51 Midget MG
1960's – Barry – 68 Mustang Fastback
 1970's – Paul – 78 Mustang II
1980's – Jamie – 89 Toyota Supra
1990's – Terence – 99 Honda Civic
2000's – Joe – 03 Mercury Marauder
2010's – Lance – 13 Mustang GT500
Crowd Favourite Runner Up – James – 68 VW Beetle
Crowd Favourite – Shauna – 67 Mustang K Code
Photo Credits: Phil Spate