Unclaimed Prizes – Ticket Numbers 6622392 and 662204 – Please call 587-437-8217 to claim your prize!
Show and Shine
The 2021 Show and Shine was on Saturday Sept 11th, 2021 from 10am-2pm! Thank you everyone for coming out and enjoying the vehicles, BBQ, free massages/animal balloons/tattoos, raffle table and other vendors we had! 
Thank-you to everyone that came out in support of the 2021 Show & Shine at the DCA.  The 2021 Show & Shine was a huge success despite the weather which put a damper on the number of vehicles entered this year.    With rain until just before the start of the show, it was understandable to see less cars and we are very pleased with the 34 cars that did come out to show.  Despite the lower numbers, there was still a lot of fun with activities planned inside in the DCA for those in attendance.  For the kids, Connect First Credit Union provided free bags of popcorn which was probably the biggest hit.  There was also a balloon maker and a spray on Tattoo artist working nonstop for the kids (and some adults).  For the adults, for the first time, students from East West College of Massage gave free massages to those in attendance.    Once again hamburgers and pop were sold with all proceed going directly to Enviros.     This year we had some new sponsors which resulted in an incredible number of prizes at the raffle table.   
After all was said and done, the event raised – almost $7,000 for Enviros.  Enviros is a Calgary-based social services agency that delivers mental health, addiction, FASD and transitioning programming to children, youth and their families.  Without all the volunteers, sponsors, participants and DCA support, this community event would not be possible.  Thanks goes out to everyone involved. 
Planning is already underway for next years show.  If you would like to be a part of the preparations, volunteer for the day of the event or be a sponsor, please contact Barry at barryneslo@gmail.com
Did you know, last year we had over 100 vehicles in attendance in the past! We are humbled every year by the returning car enthusiast and our ever growing car showers and sponsorships!  A continuous and grateful thank you to everyone involved in this fun family event!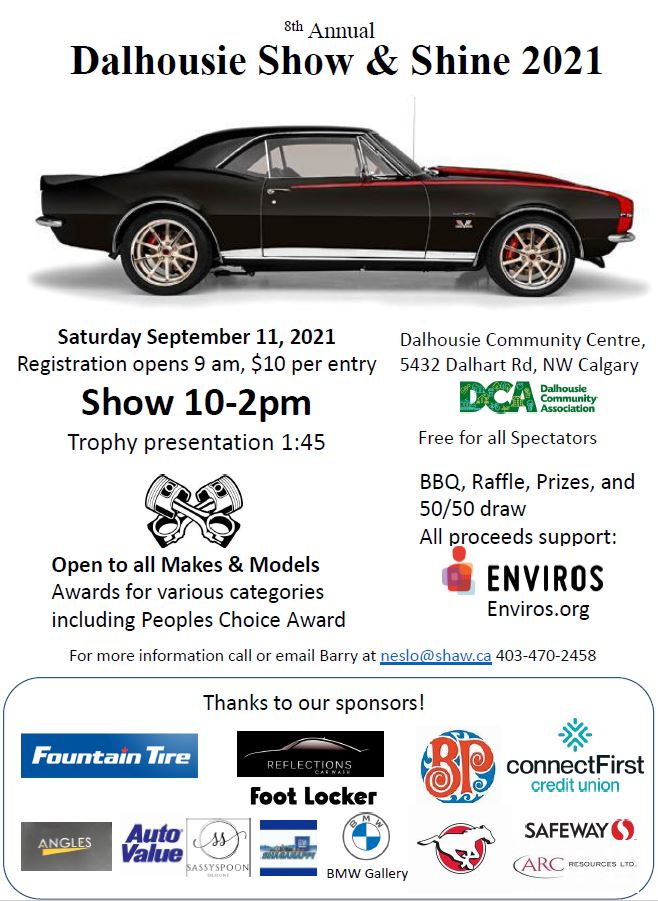 2021 Award Winners
2021 Award Winners 
Crowd Favorite

Brett Jackson 1928 Ford Model A

 

Crowd Favourite Runner Up Lisa Olsen 1967 Camaro RS/SS

 

Best Survivor

Bill McKeanen 1967 Nova SS

 

Pre 1950

Brett Jackson 1028 Ford Model A

 

1950

Walter Klumas 1955 Chevrolet Bel Air

 

1960

Russ Gray 1965 Mustang

 

1970

Adam Gardner 1971 Chevrolet C10

 

1980

Barry Olsen 1984 VW Scirocco

 

1990

Erik Olsen 1999 BMW Z3

 

2000

David Grimeak 2001 VW Beetle TDI

 

2010

Shauna Gray 2017 Mustang CS Convertible