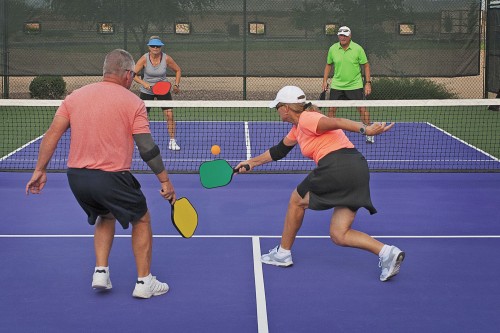 Have You Ever Played Pickleball?
Are you interested in learning or improving your basic skills? The Dalhousie Community Association offers free drop-in Pickleball Beginner's Workshops here at the courts outside the Dalhousie Community Center.
While we are not currently offering workshops due to the COVID-19 pandemic and social distancing, we are hoping to offer this workshop in the future.
Please email admin@dalhousiecalgary.ca if you would like to be added to the mailing list to be the first to know when we are offering pickleball workshops again.
Please note – a 2020/2021 DCA Membership is required to participate in the Pickleball Beginner's Workshop, for insurance purposes. The 2020/2021 DCA Membership is available now online!
You may have wondered who are all the pickleball player you see on the Dalhousie courts all the time? That is usually members of the Calgary Pickleball Club. To contact them, please visit https://pickleballalberta.wildapricot.org/
*Please note, the tennis and pickleball courts in our parking lot belong to the City of Calgary and are to be booked through the City of Calgary website.  The DCA does not administer any tennis or pickleball court bookings.