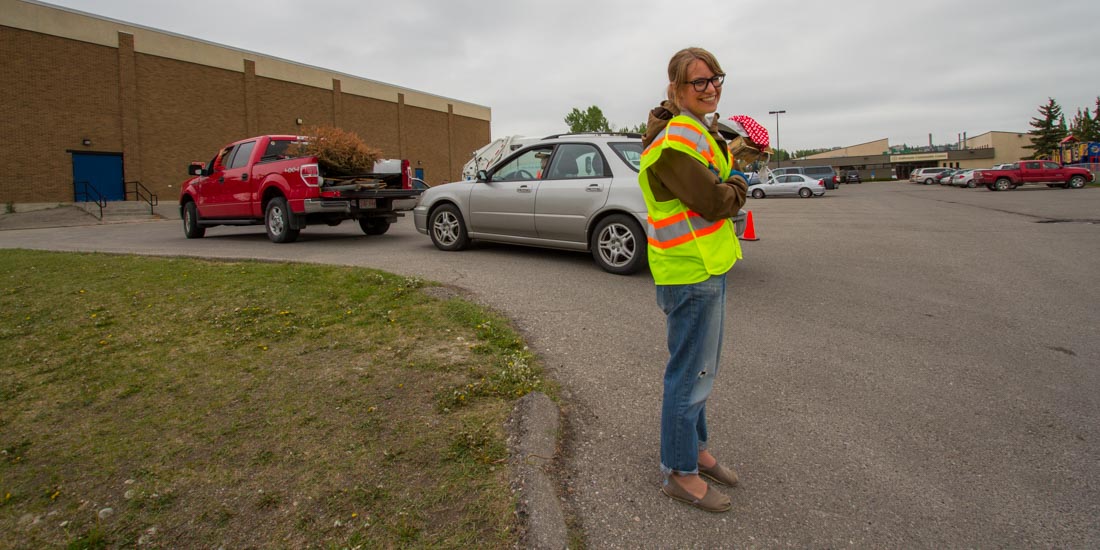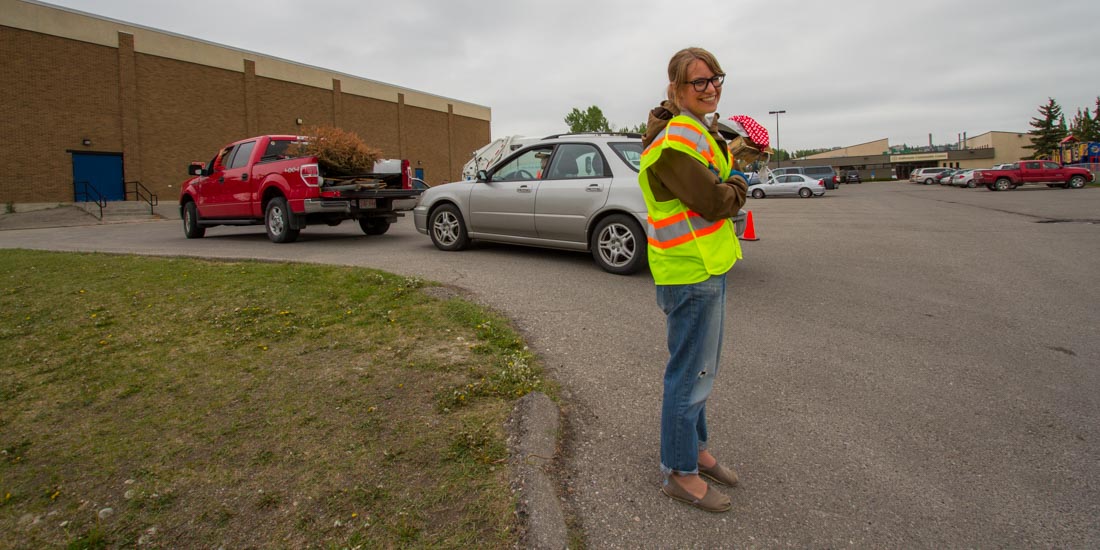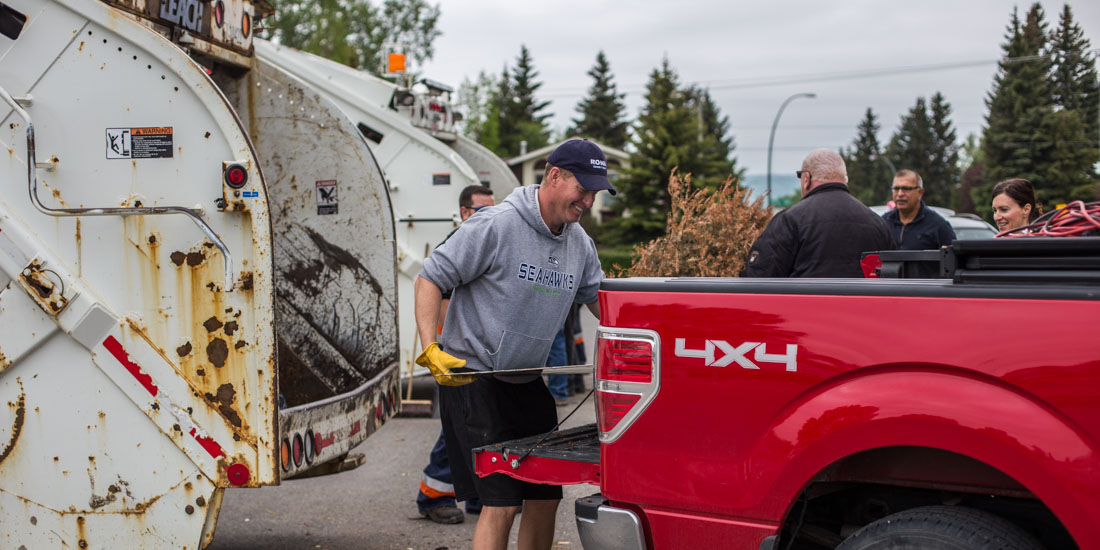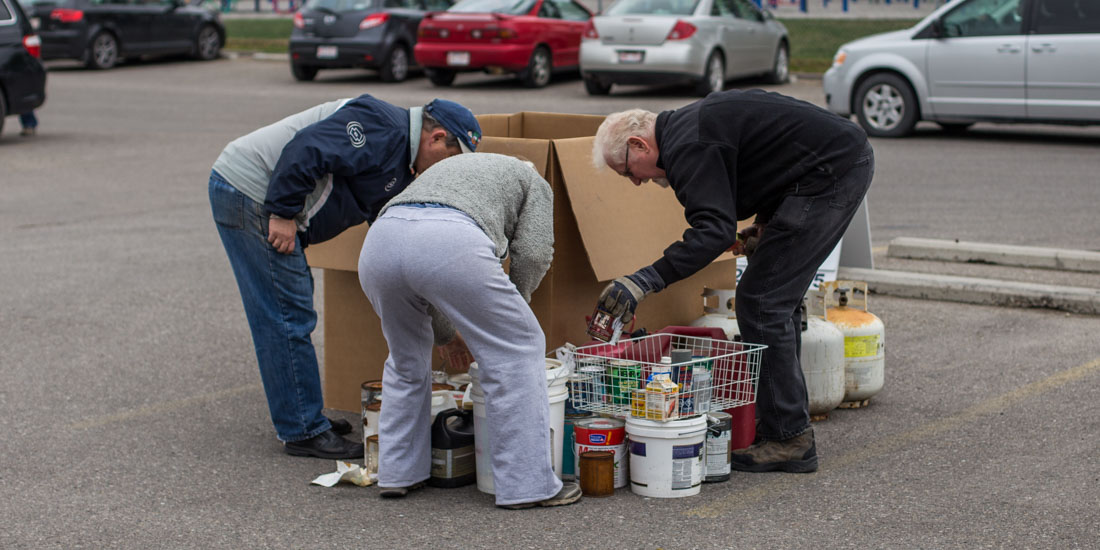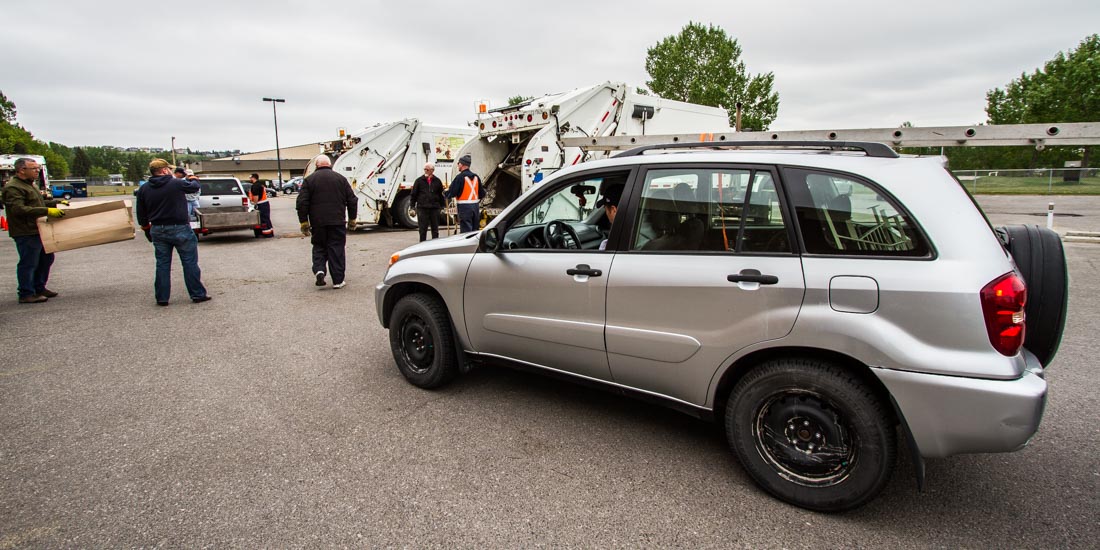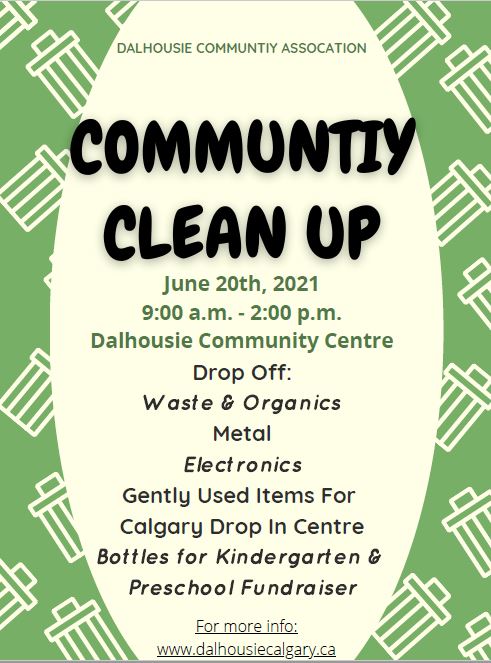 Community Clean-Up in Dalhousie
There will be three packer trucks at 9:00 am until 2:00 pm only – not until the last person is served.
The packers will take household waste items including furniture, mattresses, lumber and yard materials (organic only). Large loads appearing to be industrial or home renovations will be turned away. Household and yard waste cannot be mixed together.
We are very excited to be hosting a Community Clean Up this year!  We have various vendors, as well as the City of Calgary organic and waste trucks that will be here at the event!
This year, we also have:
The Calgary Drop-In Centre, who will be collecting items listed below that are in good condition:
Furniture (beds, dressers, kitchen tables and chairs, couches, desks, shelving units, TV's and more).
Household Goods (kitchenware, cookware, microwaves, small appliances, can openers, vacuums, bedding, linen, towels, and other items that make a house a home).
Clothing (lightly used clothing – from business to casual, outerwear, footwear, and other essentials).
Computers (working and non-working computers, tablets, monitors, keyboards, mice, cords, and other technology – we will recycle non-working electronics for you).
TechnoTrash is returning again this year! Here is a list of items that they accept:
TV's (LCD, CRT or Plasma)
Computer Systems including:

Computer Accessories (monitors, mice, keyboards, and speakers)
Computer Parts (cables, cords, fans, power supplies, hard drives for destruction, CPU, ram chips and boards)
Laptops, notebooks, tablets, E-readers

Printers, fax machines, copiers and scanners
Small CLEAN household appliances: fans, hair dryers, irons, microwaves, toasters, vaccums (empty only)
Audio Visual: CD Players, VCR/DVD players, stereo equipment, cable boxes, satellite equipment, digital cameras and video recorders
Networking/Telecommunicatinos Equipment (hubs, switches, modems, routers and phones), cell phones and chargers, answering machines
All power and air tools: drills, grinders, saws, nail gun, compressors, table saws, etc.
Games, toys, and music including: amplifiers, guitars, keyboards, microphones, electric/electronics toys, video game equipment.
Wires and Cables (Christmas lights less bulbs)
Testing equipment, circuit boards
TechnoTrash has the right to not accept items that are not listed above and/or are not clean.
Recon Metal Recycling will be in attendance!
For full information about what they accept, please visit: Sell Scrap Metal in Calgary | Recon MT
They do NOT accept:
• Combustible or explosive materials
• Liquids
• Closed containers or cylinders of any kind (compressed gas, propane etc.)
• Dirt, debris, or waste of any kind (tires, glass, wood, dirt, concrete, asphalt or other non-metallic materials)
• Material containing asbestos
• Items containing mercury
• Radioactive material
​• Barbed wire
​• Break pots/chambers with loaded springs – $5/unit charge if found in your load
Dalhousie Preschool and Kindergarten that will be collecting bottles and drinking cans for recycling for a fundraiser for both of their programs!
Bottles and cans must come bagged and ready to be dropped off in the trailer.
The City of Calgary will be here with their waste and organic waste trucks!  These trucks do NOT accept:
Car batteries
Glass (e.g. window panes, glass table tops)
​Household appliances with Freon (e.g. refrigerators, freezers)
Microwaves
Liquids (e.g. cooking oils)
Large metal items (e.g. lawnmowers, barbeques)
Railway ties
Sod or dirt
Household hazardous waste including

Propane tanks
Paint
Automobile, cleaning, healthcare, and gardening chemicals
**PLEASE NOTE WE ARE WORKING ON CONFIRMING A METAL RECYCLING VENDOR – THEY WILL  BE ADDED TO THIS PAGE ONCE THEY ARE CONFIRMED**
If your item(s) you brought cannot be accepted, you must take them back with you.  There is no space to dump your unwanted, unaccepted item(s). No garbage or cardboard recycling on site!
We will be looking for volunteers for this event.  We prefer volunteers to be over the age of 18, with steel toed or close toed shoes, and a good work effort.  It is a busy day but a very fun day in the community!  If you are interested in volunteering, please email admin@dalhousiecalgary.ca!
For a list of all City of Calgary Community Clean Ups, please visit www.calgary.ca and search "Community Clean Ups".