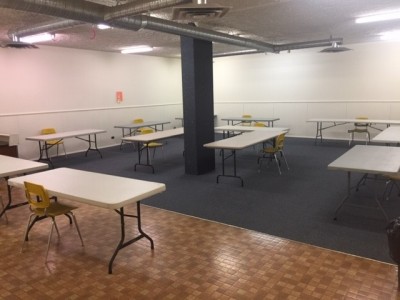 COVID-19 Guidelines
Due to current guidelines and restrictions, our capacity for the selected room has changed. The capacity of the selected room is 15 people with 2 meter social distancing in place, with participants sitting stationary in chairs. Capacities can lower depending on what equipment you are using for you set up and the amount of space you require per participant for your program/event needs.
Multi-Purpose Room
We have a new room that has become available to rent at the Dalhousie Community Centre! Below you can see a multi-purpose space that can be used for a variety of rentals such as meetings, courses, children and adult programs, and more! To the left is a picture of what it looks like when the room is full of tables.
Please note that the room would typically remain empty with access to a few tables and chairs. If needed, we can arrange for a larger set up.
Weekdays 9:00 am - 3:30 pm*
During Normal Operating Hours
Outside Normal Operating Hours
*Excluding statutory holidays.
For our operating hours, please visit our Contact Us page.
All bookings are subject to a $150 damage deposit, which is refundable if no damage is incurred.