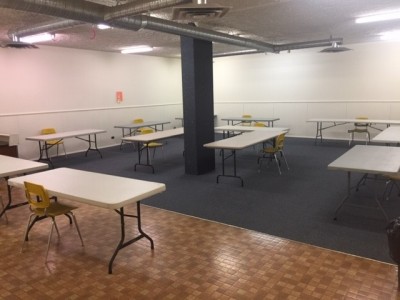 Multi-Purpose Room
We have a new room that has become available to rent at the Dalhousie Community Centre! Below you can see a multi-purpose space that can be used for a variety of rentals such as meetings, courses, children and adult programs, and more! To the left is a picture of what it looks like when the room is full of tables.
Please note that the room would typically remain empty with access to a few tables and chairs. If needed, we can arrange for a larger set up.
Weekdays 9:00 am - 3:30 pm*
During Normal Operating Hours
Outside Normal Operating Hours
*Excluding statutory holidays.
For our operating hours, please visit our Contact Us page.
All bookings are subject to a $150 damage deposit, which is refundable if no damage is incurred.